New Patients at Kanata Chiropractor
Our office is fully digital. Whether you call in or request an appointment through Facebook or WhatsApp, you'll receive a response as soon as possible, usually in one day. Our front desk staff will guide you through the steps required to book your appointment.
You'll automatically receive some digital forms to complete through email, which are sent back to us automatically once done. This allows your doctor time to review the forms and become familiar with your health history for a smoother appointment.
You're welcome to bring somebody in with you for your appointment, whether a significant other or a family member, especially for children and young adults. Please allow one hour for this visit.
The Initial Visit
When you arrive at our office, you'll receive a warm welcome before our assistants start getting you ready in the exam room. The doctor will come in, introduce themselves, and begin to discuss your problem, health goals, and how we might be able to help you.
After the physical exam, they'll discuss the immediate pertinent findings, and let you know if any further tests are required. If we do end up doing an X-ray that day, our staff will schedule a time for us to review the results of that imaging.
It is up to your chiropractor's discretion if treatment is provided on the first visit or not. We will often take into consideration the amount of pain someone is in, their suspected diagnosis and whether the chiropractor needs time to review the examination/tests performed before this decision is made. Rest assured, we will do as much as possible to help you feel better quickly.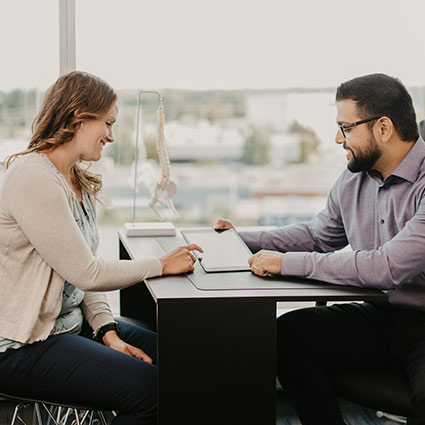 When You Return
On the second visit, your doctor will discuss the results of your testing and X-rays, if applicable. We ensure you understand what's going on in your body, what caused it, and what we can do to help.
If you decide to proceed with care, we'll go through the consent for treatment, before receiving your first adjustment.
Financial Responsibility
We are very upfront about the cost of our services, so you will find them listed at our front desk when you arrive, so there are no surprises or hidden fees. Your doctor will discuss costs on the first visit, before anything else is done. We accept all forms of payment.
Take the Next Step
Book a visit today and get started!
CONTACT US
---
New Patients at Kanata Chiropractor | (613) 809-6386