Kanata Chiropractor Limited Time Initial Examination Voucher for only $49 (Normally $150)!
It's hard to be happy when your quality of life is affected by complicated mechanical symptoms. What makes it worse is that it's tough to find answers forcing most people to just live with it. There are many reasons why chiropractic care is commonly utilized for things such as neck pain, back pain, headaches, numbness/tingling/burning sensations, arthritis and disc degeneration – just to name a few!
We have seen hundreds of patients with a combination of muscle, bones, joints and nerve issues which all play a vital role in these symptoms from cause to effect. Understanding the roles of each of these is where the answer can be found for most people. That is why for a limited time, we are offering a thorough health history consultation, a detailed spine and nerve system examination, x-rays (if necessary) and a report of findings for just $49!
If you're ready to take control and start living a pain free life, then fill out the form below to claim your voucher!
Sign Up Now
I couldn't do any physical activity like shoveling, lifting, etc. I couldn't play sports either. I had my first visit back in March. They did some examinations and X-rays. Next day I had my first treatment/adjustment and boy this changed my life. A few more visits after that had me doing things I couldn't do. Total life changer. I highly recommend this clinic for people who have back/neck problems.

After a car accident, I needed comprehensive and ongoing care to help with soft tissue injurt and resulting chronic pain. While medical doctors who are caring for me, prescribe more or stronger medication, Dr. Hamza's comprehensive treatments have been helping me to cut down on meds and feel a lot less miserable. Thank you!

Right from my first visit, I was immediately impressed. The cleanliness of the office, the incredibly kind and well-spoken receptionist, Sarah. Dr Hamza Usmani is very knowledgeable and was able not only to uncover some structural issues I was facing, but then provided an in-depth plan with realistic solutions.

Dr. Usmani is highly knowledgeable, professional, and compassionate. He spent time explaining everything to me and to make sure that I understood my examination process… As a Pharmacist, I highly recommend this place to people who are looking for excellent patient care.
What You Get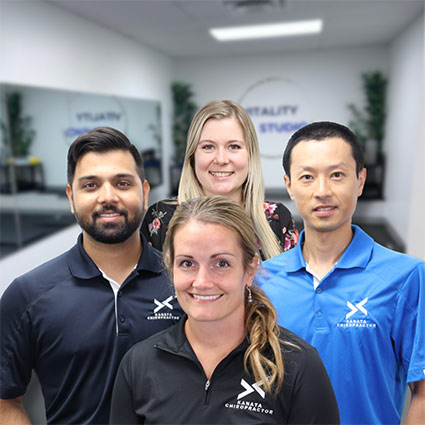 Orthopaedic and Neurological Examination: Our full neuro-muscular exam exploring all potential causes of your condition
Specialized Testing: This may include x-rays if necessary and can help to determine if any spinal problems are contributing to your condition
Report of Findings: A thorough explanation of what we find from your exam
We are offering this reduced rate because we know there is often hesitation in getting assessments done – if you don't know whether it will help or not. This one-time special appointment allows you to get a full check-up, review the results and ask questions with out any obligation to continue. We value the care that we provide and should we believe that you are a candidate for care and you feel you are ready then we will make our recommendations for proceeding.We would love to help as many people as possible but we can't accept everyone for care. If this is not the right place for you, we will let you know and point you in the most appropriate direction.
We look forward to meeting you in the practice and seeing exactly how we can help.
Sincerely,
The Kanata Chiropractor's Office
---
Kanata Chiropractor | (613) 809-6386